Pokemon thunderbolt attack 10 Pikachu coloring pages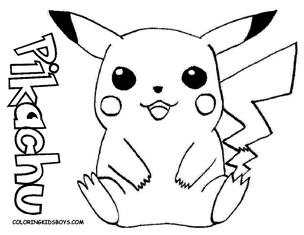 Pikachu coloring pages
Pikachu
Most of you must be aware of the sweet little yellow mouse-like Pokemon that Ash owns. Yes, you have guessed it right! It is Pikachu, I am talking about.
Pikachu is basically a Pokémon belonging to the mouse species, electric type and which evolves into Raichu. This particular Pokémon has small sweet pouches on both cheeks which store electricity.
As soon as Pikachu sees or experiences new things, it gives out jolts of electricity. Pikachu is the evolved form of Pichu and the unevolved form of Raichu. Some of the common attacks are Thunder shock, Quick Attack, Thunderbolt, Thunder jolt and Heavy Metal to name a few. Lightning Rod is the hidden ability possessed by Pikachu.
In order to check the surroundings and sense any danger, Pikachu raises its tail to understand. Pikachu is found mostly in the forests, and also in groups. At times, Pikachu even electrifies itself just to use its special move Volt Tackle. It is said that when several large groups of Pikachu comes together, they can lead to potential thunderstorms.