Marvel Avengers coloring pages are printable illustrations featuring popular characters from the Marvel Comics universe. These coloring pages are designed to provide entertainment and creativity for fans of all ages. Avengers, including Iron Man, Captain America, Thor, Hulk, Black Widow, and many others, are featured in various action-packed poses and scenes.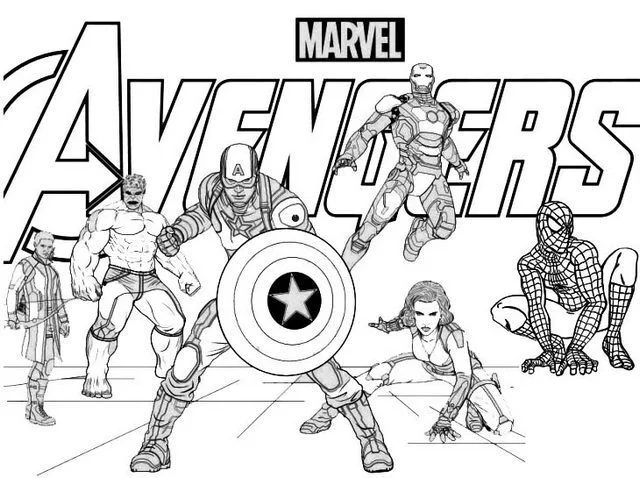 Download collection of 23 marvel coloring pages for kids, home worksheets for preschool boys and girls. You can select the image and save it to your smart device and desktop to print and color.
Out from this set you can also find some adult coloring pages on marvel added under cartoons category. Share these marvel coloring pages with your friends through Google+, Pinterest pins and Facebook shares.
What kids learn from Marvel Characters and its Coloring Ideas:
Courage and Determination (Captain America): Kids can learn about courage and determination by coloring Captain America. Steve Rogers exemplifies unwavering courage in the face of adversity, teaching kids the importance of standing up for what's right.
Teamwork (The Avengers): Coloring scenes featuring multiple Avengers working together can teach kids the value of teamwork. They can learn that even superheroes rely on collaboration to overcome challenges.
Intelligence and Problem-Solving (Iron Man): Coloring Iron Man can highlight the importance of intelligence and innovation. Kids can understand that using their minds can help them solve problems and create solutions.
Empathy and Kindness (Spider-Man): Coloring Spider-Man can emphasize the virtue of empathy and kindness. Peter Parker's commitment to helping others can inspire kids to be compassionate and considerate.
Responsibility (Spider-Man): Coloring Spider-Man's alter ego, Peter Parker, can teach kids about responsibility. They can see that even superheroes have duties and obligations they must fulfill.
Perseverance (Hulk): Coloring the Hulk can illustrate the idea of perseverance. Kids can learn that even when faced with difficulties, it's important to keep going and not give up.
Environmental Awareness (Thor): Coloring Thor can lead to discussions about nature and the environment. Kids can learn about the power of natural forces and the importance of protecting our planet.
Inclusivity (Black Panther): Coloring Black Panther can promote inclusivity and diversity. Kids can understand the significance of different cultures and backgrounds coming together.
Anti-Bullying (Ant-Man): Coloring Ant-Man can provide an opportunity to talk about bullying and standing up against it. Kids can learn about the importance of being a hero in everyday life.
Justice (Black Widow): Coloring Black Widow can highlight the pursuit of justice. Kids can explore the concept of doing what is right and seeking justice for all.
Coloring Marvel characters allows kids to not only enjoy a creative activity but also engage with important life lessons and values. Parents and educators can use these coloring sessions as a springboard for discussions about character, ethics, and the real-world applications of these superhero traits.